MPC Celebrates Hispanic Heritage Month 2021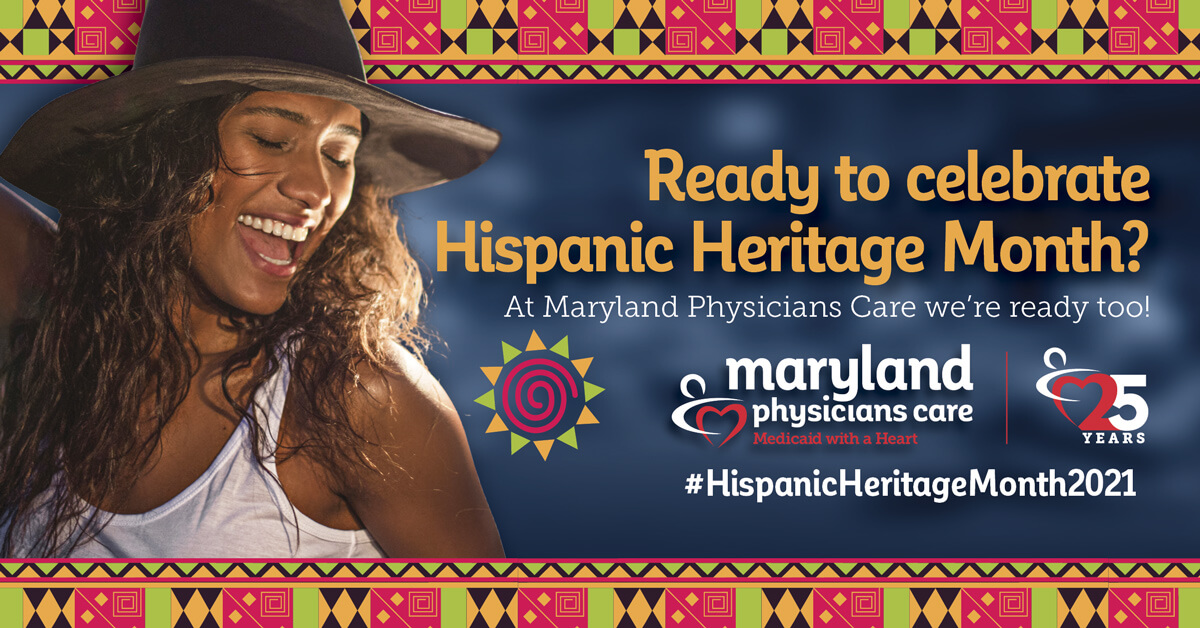 Maryland Physicians Care is proud to celebrate Hispanic Heritage Month from September 15 to October 15. During this month, we commemorate the contributions made by Hispanics and Latinos in the United States and our Maryland community. We are grateful to all our Hispanic and Latino members, doctors, and providers who enrich the work that we do day in and day out.
Latino communities, like all communities, have characteristics that distinguish them. Dr. Erik Rivera, medical internist at Holy Cross Health, gives his perspective about what makes Latinos unique in MPC's video celebrating Hispanic Heritage Month:
"When we are all vaccinated, we will go back to being the same family we used to be. We will once again be the vibrant, warm community, with the best food––and that is not up for discussion, we have the best food. We will get back to having that joy, that happiness, that spirit of celebration that characterizes us."
However, according to the CDC, Hispanics in the United States have a higher probability of dying of diabetes or liver disease compared to non-Hispanic whites, they are more likely to suffer from obesity or have uncontrolled high blood pressure, and they are three times less likely to have health insurance coverage. In addition, lower literacy rates, language barriers, and higher poverty standards lead to decreased access to health information and health insurance coverage that could help Hispanic communities access the services and care they need to prevent these diseases.
This year we are providing an invaluable resource in Spanish to our community by hosting Hispanic Heritage Month 2021: The State of Health in the Maryland Hispanic Community. This event will take place on October 6, from 4:00 PM to 5:30 PM, via Facebook LIVE on our page @MarylandPhysiciansCare. A panel of experts will participate in the event, including Dr. Paola Fernan-Zegarra, Manager of the Latino Health Initiative (LHI) at the Montgomery County Department of Health, Dr. Ligia Peralta, Pediatrician, Clinical Investigator, and President of Casa Ruben, Laura Gutierrez, Hispanic Community Services Specialist at the Office of the Mayor of Annapolis and Chair of the Mid-Atlantic Latino Vaccine Coalition (MALVEC), and Gabe Albornoz, Montgomery County Council Member. Veronica Cool, Hispanic Strategist and Founder of Cool & Associates LLC, will moderate the event.
The panelists will discuss topics essential to the community, including an update about the Hispanic population from the 2020 Census, COVID-19 vaccines, COVID-19 variants, mental health, diabetes, and other chronic illnesses. We will also provide resources for living healthy.
As we move forward beyond Hispanic Heritage Month, we continue our promise to serve Hispanics and Latinos in Maryland with the best care and access to Medicaid. We look forward to seeing you at this special event and at other events in the community!